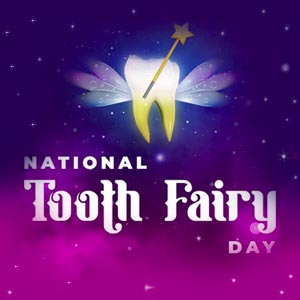 With Tooth fairy day coming up on February 28 and August 22, it's time to make the kids celebrate this occasion to make them realize the requirement for dental hygiene. It's believed that pretty tooth fairies detect when the little ones are about to lose a tooth. The young ones need to place their teeth underneath their pillow at night and pray. Tooth fairies arrive and stealthily exchange the tooth for coins. They give rewards for the tooth.
In fact, it's believed that the rewards range between $3-$4, which you can spend on the young one's dental hygiene and take him/her to a pediatric dentist. In our previous blog, we have explained the appropriate age for kids to consult an orthodontist in Monrovia. However, with the wonderful day coming up soon, it's time to find some great celebration ideas for the National Tooth Fairy Day.
3 Ways to Celebrate National Tooth Fairy Day:
Tooth Fairy Event at Your Garden:

If you have a few kids around your locality, why not arrange a wonderful gathering on this National Tooth Fairy Day? You can arrange a kids play party at your patio or garden. You can also throw a small tooth fairy party inside your home where all little ones can dress up and arrive. They can deck up like little angels in colorful dresses, while you can decorate your house in a tooth fairy theme. Keep a small engagement in the evening where you can spread awareness regarding possessing good oral hygiene right from childhood. If you can invite someone who can deliver a small and interesting speech on the importance of tooth hygiene, then it will be an added advantage for your kid.

Alternatively, you can also arrange for a small play at your porch where kids can enact a theme which spreads awareness of dental hygiene. There can be acts like brushing twice a day, flossing, massaging gums, visiting the orthodontist in Monrovia at frequent intervals, etc. There can be a book reading session as well to talk about oral care offered by dentistry Monrovia and its importance.

Crafts Evening:

Gather kids and encourage them to engage in some crafts work like DIY. They can make arts and crafts on oral hygiene, different dental parts and tooth fairies. You can make a tooth fairy pillow which the kid can use while sleeping. This will ensure that the tooth isn't lost when put beneath the pillow. The special tooth fairy pillow can be kept as a nightstand so that the tooth isn't lost when the little one tosses and turns.

Tooth Movie:

Spend the night with a nice movie with your kid. You can choose a Tooth Fairy movie or any other show which depicts tooth collectors as fairies. Also, consider visiting a reputed dentist like Dr. Eddie So on National Tooth Fairy Day to ensure that the dental hygiene of the young one is in place. Dr. Eddie is possibly the best Dentist near me in Monrovia.
Conclusion:
If you are looking for a dentist near you in Monrovia, consider Dr. Eddie So and his seasoned team in Arcadia Pediatric Dental Practice & Orthodontics. Browse through our website of Arcadia Pediatric Dental Practice & Orthodontics to discover more information about our services. Call us at 626-445-6666 to have a conversation with the representatives right away.